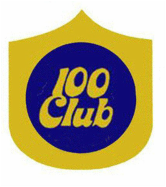 THE HUNDRED CLUB OF NEW HAMPSHIRE

2021 Charity Golf Classic
The Hundred Club has provided several million dollars in scholarships to the widows & children of New Hampshire law enforcement officers & firefighters who have lost their lives in the line of duty. The Hundred Club provides a $25,000 Line of Duty death benefit.
The Hundred Club is hosting its 22nd Charity Golf Classic at the beautiful ocean-side Wentworth by the Sea Country Club on Monday, July 26, 2021.  Once again, we are looking forward to a terrific day of golf for everyone involved!  Starting at 9am, there will be 18 holes followed by a sumptuous lobster buffet and awards program.
Those who have participated in the Charity Golf Classic in past years know the experience of playing at this breathtaking ocean-side golf course. With its panoramic ocean views, this is a truly unique golfing experience ~ a premier client entertainment event for hosting your best friends, clients, or associates for the day.
Your day of golf at the beautiful Wentworth by the Sea Country Club includes:
Convenient bag drop upon arrival

8:00AM welcome desk & continental breakfast & practice putting

Each player receives special gifts at registration.

Hole escorts prior to start

9:00AM Shotgun

18 holes of golf with a cart

Food & Drink Tasting Stations during play

Pro shop prizes & Professional scoring

Lobster & Steak Luncheon at the 19th hole
Awards and recognition of sponsors to end the day
Please join us and support the work of The Hundred Club again this year! The Hundred Club currently serves 23 families with 33 children.
Please return your sponsorship form and donation as soon as possible. If you have any questions, you can reach me directly at 603.623.9000 or email nkeller100@hotmail.com
            Thanks again for your support and I look forward to hearing from you soon.
The Hundred Club of New Hampshire, Inc. is a tax exempt entity under Section 501(c)(3) of the Internal Revenue Code. Tax ID: 02-6015912.